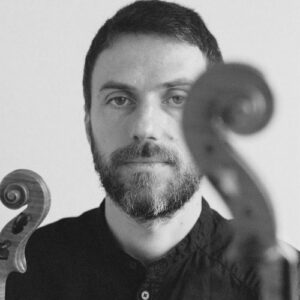 George Dumitriu is a Romanian born violist, violinist and guitarist, residing in Amsterdam. Graduate of the Bucharest National University of Music, he won more than 15 national and international prizes as a classical violinist. As a jazz guitarist he studied in Groningen (granted with the Huygens Scholarship), New York and Conservatory of Amsterdam, researching live electronics.
As a leader of DUMItRIO, he released the albums Proverbe (TryTone 2017) and Future Nostalgia (FN01 2014). The latest project of the group is the video series soFar soNear, featuring guest artists. The solo project Monk on Viola presents a new perspective on the music of Thelonious Monk.
He performs internationally with a variety of ensembles (Sanem Kalfa, Kaja Draksler Octet, Black Sea Songs, Alex Simu Quintet, Eve Risser, Blink String Quartet). Important collaborations: Ambrose Akinmusire, Theo Loevendie, Michel Godard, Ack van Rooyen, Michael Moore, Nationale Opera & Ballet Amsterdam, Brussels Jazz Orchetra.
Former guest teacher at Amsterdam Conservatory and Prins Claus Conservatory, he is currently part of the faculty of Utrecht Conservatory. He is a founding member of Romanian Jazz International.