Teaching "chopping" to the whole orchestra!
Constructing an African groove.
Creative String Workshops
It is the NSSQ's mission to bring string improvisation back into the classroom by offering a range of workshop programs for string orchestras/ensembles, music schools and universities. Encouraging string players to put down their sheet music and use their ears instead, we will be drawing upon elements from jazz, funk, blues and folk music. Topics to be explored range from 'how to build a groove together', 'how do I improvise on a simple chord progression' and 'what
is a bass line and how do I invent one' to 'question/answer sessions' and 'uncommon sounds and techniques on my violin or cello'. 
The workshops are designed to let participants experience a new sense of freedom and to offer them a fresh, lively and fun approach to music. There's no sheet music involved, so students learn to trust their ears and react to what's happening. This way the improvement of sound, rhythm and creativity is greatly facilitated.
We offer workshop programs that fit every scenario, from one-hour sessions for beginners to week-long intensive sessions for educational institutions. For inquiries and to discuss your specific requirements, please contact us at info@northseastringquartet.com
Academy of Improvising Strings
Together with world-renowned violinist Tim Kliphuis, the North Sea String Quartet founded the Academy of Improvising Strings, a workshop weekend where classical string players from all over the world can learn about improvisation and non-classical styles. The Academy takes place in The Netherlands every spring.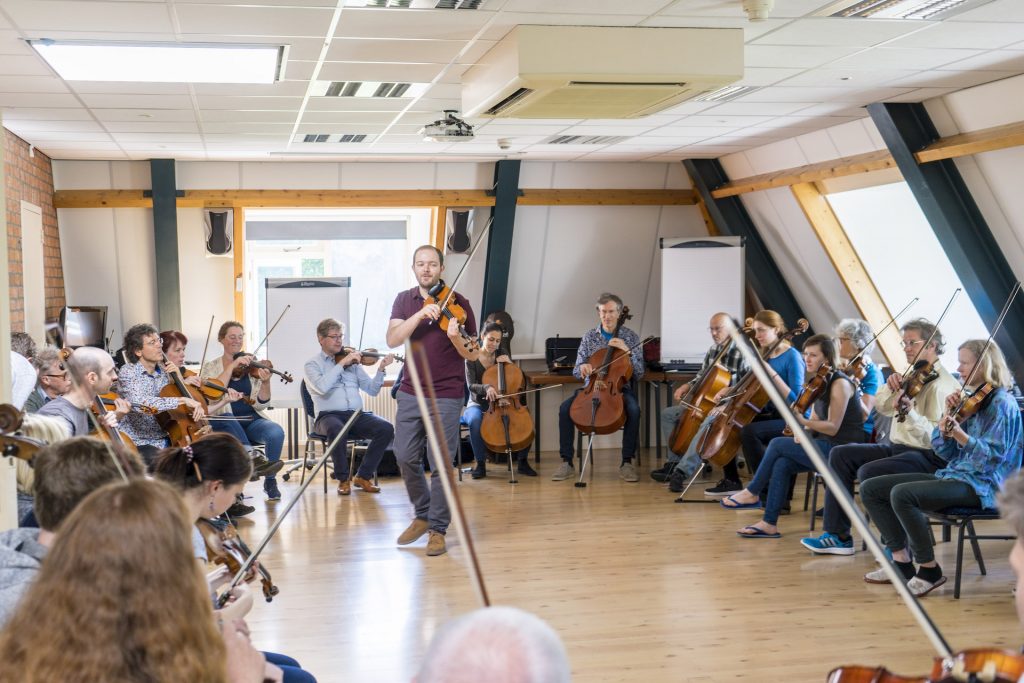 TITLE: "STRINGS THAT MAKE YOU MOVE"
Subtitle: ADAPTING MODERN STYLES INTO STRING PLAYING
Length: 60-70 minutes | Age group: 10-17 years. It is possible to adapt content to a younger audience.

The North Sea String Quartet (NSSQ) takes young audiences on a journey with a concert and lecture, showing an unexpected and wild side of the traditional string quartet. Through the performance of several tunes in the styles of Brazilian, jazz and African music, the quartet will demonstrate methods and techniques to faithfully translate sounds, grooves and improvisation styles that are reminiscent of modern instruments like drums, piano and bass.
The young audience is encouraged to actively participate during the presentation by taking part in clapping and singing along to rhythms and harmonies, engaging in conversation with the quartet members, and asking questions during a Q&A session following the exhilarating conclusion of a fast Brazilian samba tune.